Thao Nelson
Senior Associate Director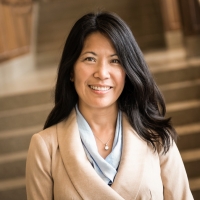 What do you do?
I build and lead the Service Team to exceed customer expectations and take care of our core customers – Kelley students and recruiters. Together we create a place where talent meets opportunity. My service philosophy is that people won't remember what you do, but how you make them feel.
Why do you do it?
I'm a leader by practice and believe in making others around me improve and leaving a place better than I found it. I'm passionate about helping others find their "dream job" – the intersection of what they love to do, what they're good at doing, and what the market pays for.
How I got here.
Actually, I got here twice. I've come full circle and found my way back to IU, the Kelley School, and career services. My first job was with the Kelley MBA Program in admissions and financial aid, and then I joined the Graduate Career Services office. Due to relocation, I left to work for AutoZone and HCA, Inc. (hospital company) in Tennessee in corporate/executive recruiting and organizational development roles. I've always wanted to be an entrepreneur, so I co-founded a consultancy firm working with public and private sector clients. Due to another relocation, I'm back where I started.
Words my team uses to describe me:
Dynamic, energetic, charismatic, innovative, supportive
What have you learned during your career?
No one is going to work harder at finding you a job than you will.
What do you do away from work?
My two young boys keep me quite busy and entertained, but I always find time to play tennis.
I strongly believe…
…if you don't like where you are, change it. You are not a tree.
I wish…
…our IU basketball Hoosiers could hang a sixth banner and that people would stop confusing me with my colleague, Eunice.
Specialities and Interests
Consulting
Healthcare
Management
Former Recruiter
Interview Expert
Offer & Negotiation Skills
IU Enthusiast
Social Media Nerd